Have you ever been hungry for an entire day? Or missed eating entirely for over 24 hours? I thought about this question while reading "Ender's Shadow," one of the sequels to Ender's game. The main character is a scrawny orphan kid who struggles to survive on the streets but eventually gets recruited to help fight off an alien invasion. You know, pretty much every orphan's story. The book was good, but for 23 year-old me it was also an insight into the lives of homeless.
Of course, I know I'll never experience what it's like to be a hungry kid in the Favelas (where Orson Scott Card was a missionary and likely got his inspiration), but I decided to try fasting to see what it was like. A high school teacher of mine, said he would fast on Fridays in solidarity with the poor. If he could do it once a week every week, surely I could try it at least once or twice.
Well, it turned out to be pretty hard! Shocking, right? Still, I managed to succeed that  first time, but didn't end up doing it much over the intervening years. Occasionally I would do a day of fasting in Japan, but there were new challenges there: being tired and hungry in a classroom of sneezing 8 year-olds is a guaranteed way to get sick. So it's been on the back-burner until relatively recently.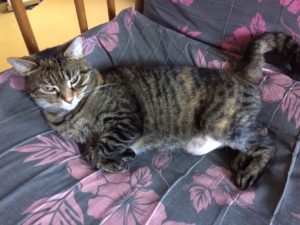 Over the holidays Amanda and I went home to Baltimore to visit friends and family. I wasn't biking to school anymore, hiking, hitting the gym, or doing much of anything beyond drinking beer, reading books, playing games, and eating. It was relaxing, but my belly got way bigger (so did Beaker's). Back in Hawaii, I already have an exercise routine down, but I wondered what I could do to help me shed some fat a little faster. Fasting? Why not.
So, how is it? So far, I've tried it every other Wednesday and it's generally gone OK. My rules: no food, no calories outside of vitamins in the morning, and no fluids other than water, green tea, or black coffee (a recent addition). Here's a breakdown of how it's felt the past couple of times:
'Man, I miss my morning coffee. But that's OK, I'm not so hungry yet.'
'Those vitamin's kinda made me less hungry.'
'OK, biking up this hill to school seems more tiring than usual.'
'Man, I could go for a latte. I should go to Starbucks. Oh…"
'OK, it's lunchtime and everyone is eating. What do I do now?'
'2 o'clock. That's half a day. Not bad, right? I could eat when I get home and call it an 'intermittent fast.'
'3:30. I'm gonna make it the whole day for sure!'
'4:30. My stomach is rumbling and my head is starting to hurt.'
'Wow, biking home was even harder than usual.'
'OK, I'm home and Elan and Amanda's food smells amazing. Like, way more amazing than usual. Must… resist…'
'My head still kinda hurts.'
'Why does this book keep talking about food? Damn you novelists!!!'
'Zzzzz…. I'm too sleepy and tired to get out of bed and eat.'
Then the next day:
'Wow, I'm extra tired this morning, but my head feels really clear.'
'Hmmm, I feel pretty good!'
'Wow, everything smells amazing today.'
'Biking is a little tiring, but otherwise I feel better than yesterday.'
'Mmmm, delicious salad. These raw cucumbers are the most delicious thing ever.'
Is it worth it? So far I've experienced four major benefits:
Losing a little weight / fat
Feeling absolutely amazing the day after (even if I haven't eaten yet)
Less headaches, even after crazy yoga poses
Shoulder injury feels way better
Overall, I'd say it's been really beneficial. So far, I've succeeded in doing two 36 hour fasts  since January and a couple of half-day fasts. My go-to day is Wednesday and I'm aiming for twice a month. Even though it tough at the beginning, I know I will feel awesome afterward, so I'm planning to try again next week and see how it goes.